We design every case searching for the biologic integration between teeth and restorations.
In Advance Dental Institute we offer different solutions either fixed or removable depending on the case, expectations and limitations of our patients.
What are the Dental Prosthesis?
Are Rehabilitations that are made to fill out the part of our dentition that was lost for different reasons.
This discipline must combine biology, function and esthetics.
The fixed prosthesis are the ones that cannot be taken out by the patient. Usually definitive solutions. Includes, bridges, Dental Implants, etc…
The removable prosthesis are the ones that can be taken out by the patient, usually temporary but sometimes definitive and also includes acrylic removable prosthesis, metal frame prosthesis, even Implant supported but removable prosthesis such as Overdentures, etc…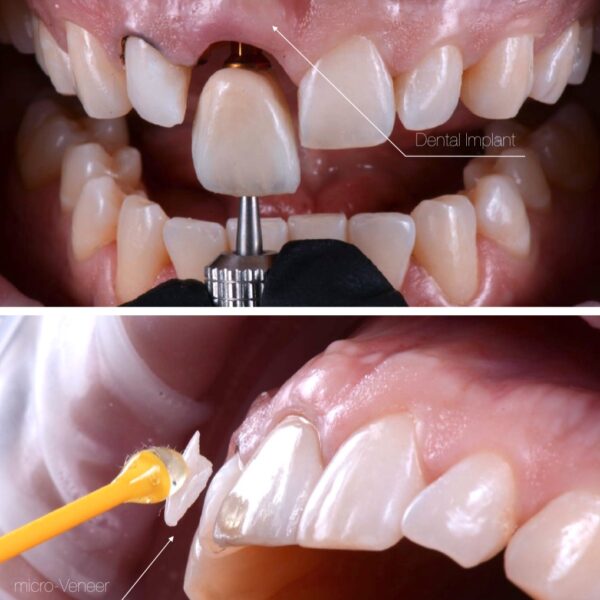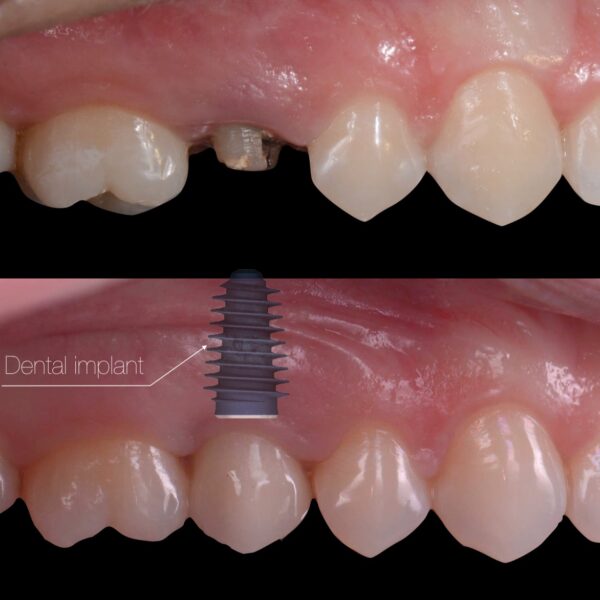 Regardless is fixed or removable, temporary or definitive the excellence in the function and esthetics is achieved from day one. Our commitment is to make a change in your life since the first visit by providing you with the best, most beautiful and comfortable dental solution.
Our Materials, Resistance and Biocompatibility:
We work with only High Quality and top brands in Restorative Dentistry such as Ivoclar, 3M in Lithium Disilicate or Zirconia Crowns, Bridges, Frameworks, etc…
Most of our rehabilitations are Metal Free since with Lithium Disilicate or Zirconia we achieve better results, more biocompatibility, more resistance and better esthetic outcomes.
We also offer to our patients a full assessment in Facial Care & Facial Aesthetics since we believe there is synergy between the harmony of the smile and the face.
DIAGNOSIS
Dental implant rehabilitation on the left side of the patient following DSD after losing the teeth due to cavities and periodontal disease.
TREATMENT
The treatment combined Periodontal Therapy with Implants and Cosmetic Dentistry to achieve the best result possible.
TESTIMONY
"My smile is just like when I was so young!!…"
DIAGNOSIS
The main goal was to replace the missing teeth due to Periodontal disease and improve the smile.
TREATMENT
Dental implants in both missing central investors previous Regeneration with Growth factor Therapy due to the severe bone loss.
2 veneers on the lateral front Top were placed to even shape, final position, chroma and proportion.
FINAL GOAL REACHED
Provide with fixed & definitive dentition to a patient that lost confidence on other dentists.
TESTIMONY
"I have the smile I always dreamed of…"
DIAGNOSIS
In this case the patient had a multiple failures and cavities under the old metal crowns and remanent teeth with poor prognosis.
TREATMENT
Combination of Dental Implants and natural dentition for mixed and Zirconia Implant Supported Restoration in order to create function and aesthetics in the same environment.
FINAL GOAL REACHED
Change the life of the patient by improving the smile, create the perfect harmony and balance between face-lips-teeth by using Digital Smile Design Concept and achieve a predictable and stable result.
TESTIMONY
"I am impressed with the result. Amazing and professional Team"
DIAGNOSIS
"I need to smile again"
That is reason enough and the most inspirational message for our Team. At the first appointment we let the patent to express all feelings in order to analyze needs, expectations and obviously possibilities of the treatment.
TREATMENT
After the proper Diagnosis, a Treatment Planning made by Dr Giovanna Di Prima & Dr Nicolas Aronna both from New York University is based on dental implants and High Cosmetic stratified Zirconia Rehabilitation.
FINAL GOAL REACHED
This is what Dr Nicolas Aronna (Periodontists & Implant Surgeon and Medical Director) calls "The Power of the smile". By changing the smile, you can change everything that surrounds you.
TESTIMONY
"You have changed my life…"
Please fill out below and ask for an appointment. We will contact you as soon as possible to confirm the day and time of your appointment.