We are not regular dentists. We design smiles based on the natural facial proportions in order to change lives like you would never imagine.
In Advance we are specialists under the lead of Dr Giovanna Di Prima (Master of Cosmetics and Full Mouth Rehabilitation by the New York University and Assistant Professor of NYU), and experts in Full Mouth Rehabilitations, High Cosmetic Veneers, using the Advanced Digital Smile Design System (DSD Licensed and Official Experts) to achieve predictable and beautiful results.
Our goal is. to combine high cosmetic dentistry with predictable and protected function to have stable and long term results.
By the use of Dental Veneers we can harmonize the smile when it has been lost due to malpositioning, deterioration, darkness and lack of naturalness.
These veneers are thin layers of porcelain which are cemented over your teeth, previously prepped (minimal reduction that sometimes is not even needed).
Getting back texture, translucency, nice & white chroma as well as the size and appropriate teeth proportion lost.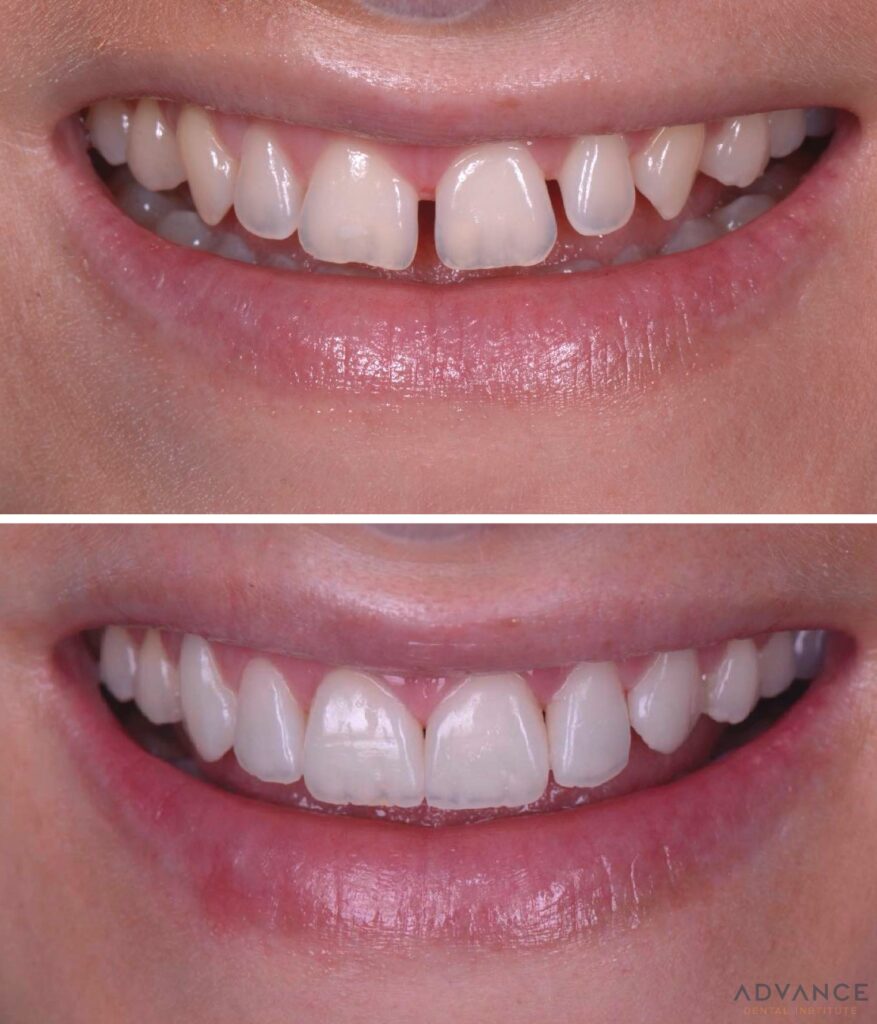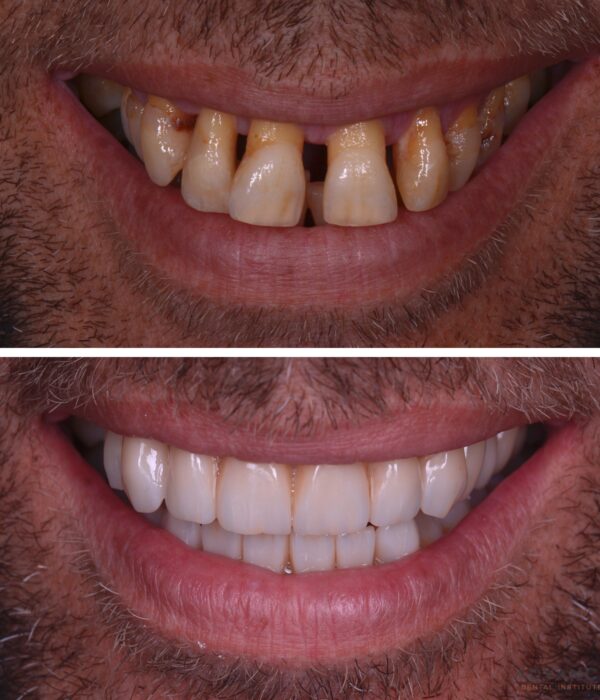 How can we get this amazing results?
Becoming Certified Experts in Digital Smile Design® requires knowledge, experience and being technically perfects. This allows Dr Giovanna Di Prima to design and create the most natural smile that matches harmonically with the patient facial proportions creating a synergy between face, lips and smile in a unique and balanced expression.
We work on the prototype of the new dentition as a MOCK UP, to allow the patient see the results before we start the treatment, just like a TEST DRIVE.
This makes the patient to be involved in the design from the beginning and by using the DSD System we can warranty the final success since we are using the patient facial proportions to get the initial design.
We work on communicating with the patient 100% to let them know every single step of the treatment.
We imitate the natural aspect of the teeth since we use very qualified Doctors and Lab technicians that work hand to hand and are fully committed during the whole treatment.

A revolutionary system created to pre visualize the results in advance before even start the treatment.
Our goal is to help you to achieve what you thought it was impossible
DIAGNOSIS
Missing lateral incisors and teeth malposition. Patient wanted to get back her smile and replace the missing teeth.
TREATMENT
Invisalign treatment for proper position and dental implants to replace missing teeth.
Full high cosmetic porcelain crowns following Digital Smile Design concept for appropriate teeth proportions and dental whitening to improve the final chroma.
FINAL GOAL REACHED
Improve the smile, get the confidence back and smile forever…
TESTIMONY
"I never imagined what I have achieved…"
DIAGNOSIS
In this case the patient presented old fillings with poor and old aspect as well as stained smile and over worn dentition due to bruxism.
TREATMENT
Minimally invasive surgery with laser for crown lengthening following the Digital Smile Design.
Minimally invasive Cosmetic Dentistry with High Quality Veneers with the appropriate texture, translucency and color.
Dental whitening to improve chroma and final color.
FINAL GOAL REACHED
Smile Rejuvenation, periodontal healing and radical change to get back the confidence in a beautiful smile.
TESTIMONY
I got my smile back…thank you so much…!
DIAGNOSIS
More and more often the patients claim for a nice and beautiful teeth to feel the confidence they need to smile naturally.
In her case, teeth proportion, shape and malpositioning where off and needed to be restored.
TREATMENT
Would you like to see her change? Click the video below and enjoy the process!
High Cosmetic Dentistry was performed following the Digital Smile Design and Dental Whitening to improve the final color and High Esthetic Veneers were created to change the complete smile.
FINAL GOAL REACHED
Life Change
TESTIMONY
I am in shock! I can not believe how beautiful I feel inside now!
DIAGNOSIS
In this case the patient had a multiple failures and cavities under the old metal crowns and remanent teeth with poor prognosis.
TREATMENT
Combination of Dental Implants and natural dentition for mixed and Zirconia Implant Supported Restoration in order to create function and aesthetics in the same environment.
FINAL GOAL REACHED
Change the life of the patient by improving the smile, create the perfect harmony and balance between face-lips-teeth by using Digital Smile Design Concept and achieve a predictable and stable result.
TESTIMONY
"I am impressed with the result. Amazing and professional Team"
DIAGNOSIS
The main goal was to replace the missing teeth due to Periodontal disease and improve the smile.
TREATMENT
Dental implants in both missing central investors previous Regeneration with Growth factor Therapy due to the severe bone loss.
2 veneers on the lateral front Top were placed to even shape, final position, chroma and proportion.
FINAL GOAL REACHED
Provide with fixed & definitive dentition to a patient that lost confidence on other dentists.
TESTIMONY
"I have the smile I always dreamed of…"
DIAGNOSIS
The deterioration of her smile in the past few years brought this patient to us.
Over wear, old fillings, lost of Vertical Dimension and many other factors where worsening the smile of this patient.
TREATMENT
Full Mouth Rehabilitation with Full Ceramic Crowns and Veneers combined as well as dental implants to Regenerate her smile.
FINAL GOAL REACHED
Full Rejuvenation of her smile.
TESTIMONY
You have changed my smile and my life…
DIAGNOSIS
Dental implant rehabilitation on the left side of the patient following DSD after losing the teeth due to cavities and periodontal disease.
TREATMENT
The treatment combined Periodontal Therapy with Implants and Cosmetic Dentistry to achieve the best result possible.
TESTIMONY
"My smile is just like when I was so young!!…"
Advanced aesthetic treatment
DIAGNOSIS
Over wear due to bruxism and general yellow tone of her teeth.
TREATMENT
High Cosmetic Veneers and Dental Whitening to improve chroma and final color of the Veneers.
FINAL GOAL REACHED
Regenerate the smile with Minimally Invasive Veneers and mild preparation of the tooth.
TESTIMONY
"So recommended…!"
DIAGNOSIS
E-Max Lithium Disilicate Crowns in a Super-White Color as a change for the old crowns:
In this case the patient requested to change the old crowns for Super White Crowns following the Digital Smile Design System that proved evidence that the old treatment did not respect the facial-lip-teeth proportions and balance.
TREATMENT
Full Mouth Change of old crowns by New Lithium Disilicate E-Max crowns in a Super White Color in addition of Laser Gingivectomy to achieve the proper gingiva display.
FINAL GOAL REACHED
Create a New Smile according to the expectations and customization of the patient, following the golden proportions in order to achieve an harmonious and balanced smile.
Please fill out below and ask for an appointment. We will contact you as soon as possible to confirm the day and time of your appointment.